Max Mulligan

Interviewee: Max Mulligan, born 1935

Interviewer: Port of Yamba Historical Society members

Date of Interview: 10 March 2000

Transcription: Marea Buist, 2001
I appreciate the invitation to come down here, I feel a bit of an impostor as I have only lived here 36 ½ years I don't feel very old and I don't feel like an old timer in Yamba. I suppose some of you have not been here quite that long. I was asked to talk a little bit about the Caravan Park. I am surprised at the wonderful display that you have here on camping and the early days of Yamba and the camping facilities here. As you know in the early days they just camped anywhere in Yamba, Flinders Park, Ford Park what there was of it, Pilot Hill anywhere around the streets of Yamba. In fact I went looking today and I was going to say this whether she was here or not. But Daphne McPherson on the back of her Harbour Street home had a sign that she gave me years ago that was very very worn that had " Camping not Permitted by this Fence" or words to that effect. That has been there for heaven knows how long well before you bought it. Anyway that is really what went on in Yamba until the 50s the Council and the Urban Area Committee decided something had to change. Black's Bay as it was known down on the southern side of the breakwater was full of water and the old boat sheds were there and it was getting to be a bit of disgrace apparently.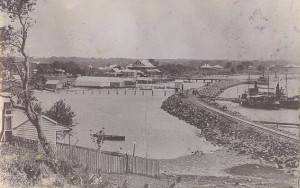 Black's Bay, full of water

Lenny Percell the Shire Clerk said last night when I asked him about it. He said it was getting pretty grotty and the late Jimmy Thompson was the Shire President at the time. Anyhow Jimmy was great mates with Jack Renshaw and Jack Renshaw was the Minister for Public Works in those days. I suppose things got done in those days, I suppose things still get done though there is more public accountability but in those days it was you scratch my back and I will scratch yours. Jimmy was able to get Jack Renshaw to come to the party. The harbour works was still in progress at that stage, they though we were going to have a harbour works here and so the Government of the day saw fit to reclaim the original Blacks Bay.

Prior to that there was just a piece of land that ran from the wharf for the riverboats back onto the mainland that was called Ford Park. There was an old concrete amenities block there, concrete and masonite when they had a few pan toilets and cold showers down there. We inherited that as the time went on. They had to get the Public Works to fill it with sand but they had to develop it. Now the Council didn't have any money to develop it and the Urban Area Committee certainly didn't have any money to develop it so there was a company formed called the Calypso Caravan Park Pty Ltd. When this was put out to tender... I don't know and I'll never know and I don't care but the Principals of the Calypso Caravan Park Pty Ltd where one the Shire President Jimmy Thompson, his great mate Beachie Page from Grafton who was the Dentist and a gentleman by the name of Lou Comensoli who was the sanitary contractor for the Central Coast and Lou's son married Beachie's daughter so that's how the three of them got involved. They were Calypso Caravan Part Pty Ltd. Now they started to develop it. Now Jimmy Thompson incidentally was in partnership with White & Thompson who were the big hardware store in South Grafton and of course anything that he couldn't sell in the hardware store got put down here in the development and if he couldn't buy it secondhand that's what happened. Most of the things that were built in the Caravan Park were secondhand. As I recall, the upside down taps you use to see outside hotels where they use to fit into a tile space and you use to put the hose in the outside to hose down in the morning and all around the Caravan Park were these upside down taps. They were one of the first things I changed, I can remember.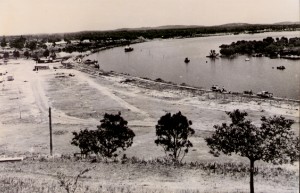 Black's Bay
A few years later a gentleman came day and introduced himself as Lou Comensoli and I invited him in for morning tea with his wife and Lou said at this stage the place was beginning to look a little bit better and he said "You Max, he said this is how we wanted it when we were building it, now he said. "What happened is that I would get a note from them up here to say Lou we want another £1,000 so he said I would send another £1,000. I found out later I was the only one that was putting in the £1,000 those other bastards were not"!
So anyhow they built the thing and developed it. They put some gravel roads in, they put 36 power points in and they started operation in a masonite shop and of course none of them wanted to run it themselves as they were going to make big money out of this caravan park. Although the campers said that they would not come back to Yamba again. They were not going to shift down off the top of the hill and come down to the Flat because in those days that was definitely below a lot of people's dignity. The Hill and the Flat and never the twain shall meet. Anyhow they put Frank Kane and his wife Ann in as the original managers and they were in for two years I think. They had a wet 1960, Christmas 1961 and 1962 and they didn't make any money. As a matter of fact in 1963 they had lost £2,000 in the three years of operation. Now that might not sound much but it was a lot of money in those days.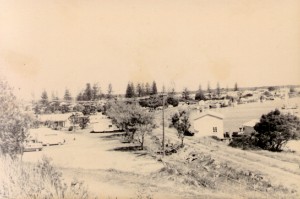 Black's Bay, emptied of water
The Kanes left and they put in an old fellow Bill Ricketts to manage the park and to look after the mowing and the cleaning. They had a couple of women were doing the ladies toilets and an old lady by the name of Miss Crispen from South Grafton ran the shop for while until she got tired of it and so the shop closed down.
Sometime in 1963 the wife and I had only been married 18 months or so and we were looking for a caravan park because Marilyn's father had been in the game down in Sydney for 10 or 15 years and I thought that this would suit us fine. We had looked around and looked around and we couldn't find anything. We didn't have any money and so I put a deposit on a milk run in Sydney and I happened to look in the Sydney Morning Herald one morning and saw this advertised up here in Yamba. So I rang up and it was advertised as Doughty Real Estate, although Bill Doughty had only recently started his business up there in Grafton. Peter hadn't joined him them, he was still in teacher's college. Anyway we were flying up with Marilyn's father and came down here to look at the place and wasn't terribly impressed but I did say to Marilyn's father "What do you think?" and I can still remember his words he said "I can make a go of it". He didn't say me he said I could make a go of it and I thought it was like a bloke waving a red rag at a bull. If you can make a go of it so can I Dad.
Anyway it was advertised for £10,000. Now Bill Doughty told me later that he had a number of letters from people all around the State and wanted a guaranteed income but he couldn't get it as the thing had lost money, £2,000 up to that stage so he said nobody was interested in it. So we decided that we would dive in and accept the £10,000 we signed a few papers and that type of thing and Bill rang me a few weeks later and said that we have got a problem. And I said, "What's the problem Bill?" He said, "Well although it was advertised for £10,000 they want £10,000 clear. And we have got to get our commission and our get our costs and that is £10,500 and how do you feel about that?" I said that, I don't feel very happy about it and I think my father said to tell them you know what ... anyhow I thought oh well you know we've got this far now. So to this day Bill and Peter Doughety still say we are the only ones in the history of their Real Estate Agency that have paid more than the advertised price for anything.
On the 17 December 1963 we arrived at the Caravan Park. We had no money. I borrowed £20 off my father to pay the Peter's Ice Cream man Reg to put some ice cream in the shop, as I said the shop had been closed.
My father-in-law said to me to sling twenty quid to Bill Ricketts who was the manager come cleaner to let you know if there are any gimmicks that you should know about the place, anything that really might be able to help you with. Well I gave him £20 and that really broke my heart to give him £20 and he never told me anything anyway. All I got for £20 was a big Peter's Ice Cream sign with a rough outline of the park drawn on and Bill Jones had written on this part of the board Harry Smith up here, and they were the Christmas bookings. There were no sites marked on the park, the park was just a great big sandy area, there was nothing. We bought a caravan up as there was no residence and we lived in the caravan with our 10 months old daughter and that's another story so I won't bore you with that. So we set ourselves up in this 19ft 6" caravan. We use to sleep there at night and live in the shop in the little kitchen during the day when we had time. So we were fairly busy. What did we buy. We had a 8ft wire fence around where the railway line ran. It had 36 power points and probably 20 upside down taps on the outside and no trees accept for a couple of old banksia trees and three Norfolk Island pines that had been planted years ago on that small strip that they knew as Ford's Park and the boiler. I must tell you about the boiler quickly. It was a boiler that must have been 100 years old at that stage. It was a 'donkey' boiler, all low pressure system in the showers and the boiler steam tubes were all rotten inside it and when it use to cool down it use to drip water down through the fire box. And if you have ever tried to light a fire with water dripping down on it everywhere you can appreciate the trouble we had that first Christmas.
I had to get up at 4 o'clock every morning to try and light the fire round the outside of the fire box with the water dripping down the centre and gradually it developed heat to get hot water for the showers. The pipes would expand and the leak would stop so it was beaut while you kept loading the firewood into the boiler and it was right but if you let it go out and that happened a lot of times when you got so busy. Marilyn was looking after the shop, I was doing the booking in and the putting on and of course I was I run off my feet. Of course we were pretty busy that Christmas, well we thought we were busy anyway although we might have had only 30 or 40. I lost just over a stone in weight running backwards and forward for this three or four weeks and suddenly you would think, oh my god the boiler has gone out so you would race back again and you would start all this business again. So the first thing we did after Christmas as we earned a little bit of money and we bought an oil burner. That was the first thing I ever put in that Caravan Park was a new oil burner and it was marvelous, it was absolutely unbelievable.
We worked on it and when we got a little bit ahead of ourselves we got Peter Cavangah to put a small residence on the back of the shop and that was beaut. We actually had a bedroom connected to the shop. Later on we built our first brick cabins, there were six units built by Horrie Green from Umina and Horrie and Dorrie were people who use to come and spend time with us. Horrie building the cabins put his right hand through a circular saw or bench saw and took his entire finger off his right hand. I can remember burying those fingers and they are still down there I might add and I know exactly where I buried them. We used Horrie to build the house virtually as it is today because I felt sorry for him so I gave him that job as well. Then Ken Porter later on in the 1980s built the new brick cabin over the old brick cabins but we weren't allowed to put showers or toilets or anything in them and that's another problem we had with the Council in those days. The new owners down there now down there of course, Alan Easts and Sandra had no problems as they were allowed to redo them but that's another story.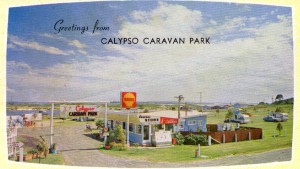 Calypso postcard
There were no trees in the park as I was telling you and in about 1964 the big poplar trees still down in the corner. They were given to me by old Harry Carter, Chic Carter's father I think. Harry use to work for the Federal Match Company and Harry came down on that first Christmas and said that he could get us some trees and he bought me down these lumps of Poplar Trees in '64 and we planted them all around the park. The only ones to survive were the ones that got a bit of protection from the north easterly and southerlies under the hill. They are pretty big trees and they have been there since 1964. The Norfolk Island pines, we had a lot of trouble getting trees to grow when in all sand and we tried many. Finally we got onto the Norfolk Island hibiscus and they don't mind the salt air at all and we put them in all the middle parts of the park. At that time there were no nurseries in Grafton, South Grafton or Maclean or Yamba. I guess I could have got them from Brisbane but being an old Sydney boy I knew a guy in Sydney and I ordered about 30 of these trees. They came up in garbage bins, they were only about 3ft high so they came up on the rail and Nugget Ebling bought them down on his truck and we planted them around in about 1967-68 I guess. I am very happy to see them growing so well now and when I am dead and gone at least my grandchildren can say that my grandfather planted those trees. The only other Norfolk Island pine trees around Yamba in the main streets they were planted by old Harry Ford.
The large Anchor that is down at the park, where did it come from?
It actually came from outside. I didn't do a great deal to get it there. It was caught in a trawl wire out off the entrance and I honestly and truly can't remember which trawler bought it in. But they bought it in tired up in one of their nets, it messed up their net and instead of getting it ashore they let it go in the centre of the bay. So it was down in Yamba Bay and I got this bright idea of raising it which was quite a funny episode. I built a raft out of 44-gallon drums and swam down and waited for low water and tired ropes to it and as the tide came in it raised the anchor and we eventually got it over to Hickey Island. Then I hooked the old Land Rover to it and dragged it out that way then we made some enquires. We went up to the Daily Examiner and spent a few very happy days and weeks up there trying to work out where it had come from, what vessel may have dropped it. So that's the history there.
Did you find out?
We found out the history that we thought was pretty close to it and we put it down there on a board for many many years. Where it gone to now I don't know.
A funny thing talking about Hickey Island. We were on septic in the days that we arrived here when we bought the park and of course you couldn't just have a septic trench in the Caravan Park. I mean this was built for 300 people maximum to take this septic tank and we had a thousand people here at any one time over the busy periods. So we definitely had septic problems. What they had done was to put in two pumps on the septic tank down there and ran it all the way around the outside of the park over onto Hickey Island. There was a great big sullage pit right over on Hickey Island and of course Rodney Marr wasn't very happy with me every Christmas because he use to get a terrible smell from the pit and he was always onto me about that but I couldn't do anything about it. We increased the size of it and spent a lot of money on it. Certainly the toilets over there the other side of Gorman's when they were built for years they were not attached to the sewerage until we finally got the sewerage on in 1967-68.
They took over that sullage pit over there and the council was still using that. That was rather an interesting situation and I spent many a pleasant night over the time of the septic down amongst it all. It use to sort of come out of the main amenities block and out of a big T pipe and I would stand in there after tea with a big torch and a big rod poking the stuff and I got real expert at that.
The Caravan Park now and the photos we have of it, is it filled in with local sand. Did they dredge the sand and fill it in or did they bring the sand in from somewhere else.
It was all dredged out of the river and the Bay.
And the retaining wall built?
No the retaining wall was there since the turn of the century when they built the breakwaters.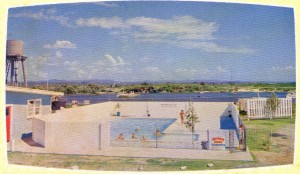 Calypso postcard
And there was water on the other side?
Yes. It was virtually the railway and the original breakwater. The train use to come past at 6.30 every morning and use to wake everybody in the caravan park, you could hear it coming. Incidentally the western end was not filled until about '67 or 68, that was right up to River Street was still water and it might be of interest to you to know that the original lease... and we bought a lease. We didn't buy it from Jimmy Thompson we bought a lease from the Calypso Caravan Park Pty Ltd and all the conditions that went with it. Later on it was thrown up to us that we had done something wrong or illegal. When I was on the Urban Area Committee, which I should never have been, they reckoned that we had done something illegal. But on that lease is the proviso if you like, there was definitely a paragraph on the lease when the western end of the park was filled right up to the Angourie Road it was part of our original lease and we could take that over and continue the caravan park. Now when it was finally filled in Frank O'Grady was still the Chairman of the Urban Area Committee and Frank came down to me one day and said " Now do you want this bloody land or don't you"? And I said that I think it would cause too many hassles with the residents in town along that section, Mrs. Brown and Mrs. Martin.
They were all up in arms about the Calypso Caravan Park and I said "Look I've got enough to look after anyway". So we came to a gentleman's agreement if you like where we just took in that bit up to River Street. I can remember standing there one day with Frank and going "what do you reckon about that line there and he said "Yeah, that will do, can we mark it out"? And I put the posts in and that is how the caravan park western boundary came to where it is but according to the original lease it could have gone further and no extra rent I might add. That was part of the lease. Also getting back to the original lease there were no rates to be paid, just the lease money and there was no allowance for the money to be raised for the duration of the lease. The original lease was 28 years, 1960 would have gone to 1988. I found it difficulty in getting money from the banks for that short period of time. Having been at a caravan convention one day I was talking to a man from the Lands Department and said, "Have you applied for a long lease"? And I swear he said 44 years. Anyhow we applied for a 44-year lease and that is indeed how we got a 44 year lease and it is leased down there now for the year 2004. And I hope Alan and Sandra continue on because I am quite sure they can run a better park than our Shire Council.
When you originally started did the majority of the people that came here were campers?
In the initial period in the early '60s but as got towards the'70s caravaning really took off and we started to run out of power sites. We only had 36 power sites and they were one of the things we had to put in. The late Bill Alford, my friend Bill, who wouldn't lend you any money but he would give you all the time in the world and he was a great friend of ours. I can remember we put in the first lot of power extensions down there with an old Marborg plough behind the old Land Rover with Bill on the plough and me driving the Land Rover and we dug through the sand. (Break in Tape)
The company shall we call them bought for Bill Ricketts in the last twelve months that he was here at the caravan park was an old plywood thing that had fallen apart from the chassis and the doors and the sides use to flap and it what we use to call it "the thing" and anyhow I sold it for £5 and I was happy to get five quid for it I tell you. I can still see it going around Ron Ison's corner and the sides of it were going like this and I hoped that he would get to where he was going. Oh yes they were funny days, they really were.
We had a lot of funnies there. We had one particular funny lady Mrs Lang. Mrs Lang use to get things mixed up and she wasn't very good with the Queen's English. I can remember she was a short dumpy little lady and she came across to me one day and I was out by the swimming pool and she said, "Mr Mulligan we've put a pool in our house." And I said, "that's very nice Mrs Lang". She said, "But we have a problem. Do you get that allergy in your pool."
Round the back of the office we had two or three Travelers Palms we planted and another day Mrs Lang came into the office and she said, " Mr Mulligan." And I wondered what was coming now and she said, "How do you plait those banana leaves like that." That's only two things, there were many over the years.
Can you remember what the population of Yamba was when you came here?
I think we use to say 800 or 900 in the whole district. Eight hundred might be an exaggeration. We put petrol in down there and the reason we put petrol in down there was when Ron Ison was running the garage on the corner. He use to open at 9 o'clock every morning and people would want to leave before 9 o'clock so that is why we put the bowsers in.
Incidentally when we took over the park in December '63 you could get a site for five shillings of that day and it didn't matter whether there were one person in the tent or ten people in a tent, it still cost you five shillings and we could see straight away that this wasn't going to make us any money and it wasn't the way to go. Well it wasn't fair. Two or three families in one tent paid the same amount of money as mum and dad. So we had to bring a head charge in which we did and we thought ok we will advise everyone here now that in twelve months time, that we will give them twelve months notice that they will be charged per head. That didn't go over very well. I didn't really appreciate how badly it went over. I didn't get out of the park until February '64 as I was too busy even to go up the street. And I came up to a service station, there was another one up the road here and the lady of the service station just happened to be the Secretary of the Chamber of Commerce at the time. I just walked in and asked for a couple of screws or something or other and she said in a very whinny voice, "Ah she said, so you're the gentleman that is causing all the consternation in the town."
And I said, "Am I?"
"Yes, you're putting the rates up."
That reminds me of ice orders. The only way we got ice down was to sell raffle tickets for the ice. You would come in and pay for your ice of the day and we would sell you a raffle ticket and we would take orders of a night. We would ring Nugget Ebling in Grafton at 8 o'clock at each night to say bring us down some ice. On his way down Grafton with the milk and the bread, he put everything on that truck. He would call into the Fisherman's Co-op in Maclean and buy those long blocks of ice. Nugget would come down and drop them around the back and you would say to everybody that you sold a raffle ticket to "Well the ice will be here at 8 o'clock or whatever time in the morning if you are not there to collect it is just going to melt. So we had a bench out the back of the office and we use to saw it with a hand saw into three. We would put it under canvas and if you went fishing and forgot to get back... sometimes they would come in at 12 or 1 o'clock and asked, "Where is my ice". "Well whatever is left is out the back and you can have it".
Things have changed.
When did you leave the Caravan Park?
In 1991 I had an unsympathetic Council and Shire Clerk and a very unsympathetic Mayor. You see, Yamba drains were put in the early days and were never been up-dated. It was ok when Yamba wasn't populated but the more houses that were built the more pressure was put on the town drains. I use to bring it to their attention many times but they wouldn't take any notice of me. Anyhow, I say to get even with me a couple of the Norfolk Island pines down in the caravan park that was lovingly nurtured for on just on 25 odd years got down into one of the drains and caused a blockage. So I approached them to see if they could dig up the park by all means but just divert the town drain around the trees so we won't have any further trouble. And no way in the world would they do that for me. So we really did have words, both the Mayor and the Shire Clerk and they came down and chopped down my trees. That was like cutting my leg off for me so I sort of said to Marilyn, well I think I've had enough and virtually that was the straw that broke the camel's back I guess and that is when we got out. I can't work with Council anymore and we got out in '91, it was.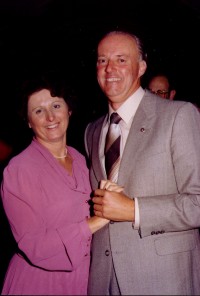 Max and Marilyn Black
You served on the Local and Urban Area Committee in the time that you were here didn't you?
Yes, that was the worse thing I ever did. I thought it was like a Chamber of Commerce. I didn't know what an Urban Area Committee was. Well we didn't have any of them in Sydney and old Frank O'Grady again. Frank came down past the caravan park one day and I was mowing there and He said, " I want you to come up to the Urban Area Committee." "What's that Frank". "Ah we just look after the town, we look after the garbage, we look after this and that". I said "Oh, I don't mind". "Can I put you in"? "If you like". I honestly though it was like a Chamber of Commerce. I was prepared to work for the town. After I got in I got a letter from Bill Wiley congratulating me on my entry into politics. I still got the letter at home. Politics in a town like Yamba!
Talk about garbage. The garbage, when we first came to the caravan park the Urban Area Committee use to charge you two bob, two shillings to empty your cans twice a week. And Keith Moran was on the garbage and sanitary in those days and it didn't matter if a tin had one parcel in it or it was overflowing, you got charged two bob. Well as I said I didn't have any money in those days and so before I knew when Keith would be coming that night I would go around to all the tins and I would fill the tins up and hide all the other ones that were empty. Later on, you wouldn't be allowed today to put an old incinerator in and we burnt our rubbish for awhile. Later on when we found that the incinerator just couldn't cope then we had our own trailer and we use to run it out everyday to the Angourie tip.
I was wondering if they should allow any commercial development in Coldstream Street?
I think I went on the Urban Area Committee in '66 and I probably got thrown off in '72 and that was when old Len Barry... you remember Ding Dong Bell from Melbourne came up here and Ding Dong wanted to get on the Urban Committee and run for Council. That's when they started the Yamba Ratepayers Association and I don't think they were interested in the development of Yamba.
There was nothing in Coldstream Street?
No, Lenny Stone was on the corner there was nothing else there and they came down and said this is where the main shopping centre should develop. You just couldn't comprehend it at the time. It was the hill and the main Yamba Street and that is how we ended up with the rock pool down on the beach too. That was when I was in the Urban Area Committee the Shire Council came down and said... We wanted to build a swimming pool in town and they said no. We wanted to close the one down at the point, the rock pool and the Council made up their mind they were going to put a pool down where it is down at the surf beach. We were trying to talk them into giving us a grant not for that but for a pool here near the Golf Club just down here. Anyway, no, they were adamant. It was that rock pool down there or no money at all so we just said ok. It wasn't the Urban Area Committee that put the pool in there it was the Council.
What do you think the future for Yamba is now with your experience and with the present day developments going on and the lack of sewerage that is still here.
I think it is wonderful. It will never be a Gold Coast and nobody wants it to be a Gold Coast but I think it still retains its charm and character and you can't stop progress. Well if people come they will just have to increase the sewerage. You can't stop people from coming just because we were here first. I will never move, they will carry me out in a box not that I live in Yamba now but I still feel a part of it on the Lower Clarence.